An Introduction to Staging
I recently read an article about a seller in California that spent over $100,000 in staging their vacant $3,000,000 home. Was it worth it? The seller certainly felt it was.  Especially in an area where there is a great deal of competition and multimillion dollar homes around every corner.
Clearly, when we talk about "home staging" there are as many levels to staging available as there are ranges in cost. Not all staging has to be in the form of hiring a top designer to bring in perfectly updated furnishings and other home décor.  For those of us not sitting on unlimited sources of cash, there are other simple and less expensive ways to help your listing stand out above the rest!
Let's Talk Numbers
   Is there real data that supports the advantages in home staging for Sellers? Yes, in fact a recent 2017 survey conducted by the National Association of Realtors suggests there are multiple benefits to gain by staging. Here are just a few of the stats from the report:
29% of sellers believed that staging increased the value of their home anywhere between 6-20%.
Additionally, almost 60% of the real estate agents surveyed felt that the sellers received anywhere from 1- 20% more for their staged property.
39% of Sellers' agents said that staging substantially reduced the amount of time the home was on the market.
You can see the full results of the survey here…
https://www.nar.realtor/research-and-statistics/research-reports/profile-of-home-staging
#1. Let's Start by Making a Great First Impression
      In my experience, with home prices rising, most of the home buyers today are more particular than ever before. Staging your home with beautiful furnishings is not going to cover up a poorly maintained property.  Taking care of deferred exterior maintenance will go a long way in getting your home sold and for the best price.
Pressure Washing
The buyer's first impression is set-in before they walk through the front door. So having a clean, well kept exterior is a must have. As a Realtor, I'm often confounded by the little things sellers overlook.  It's nothing that can't be addressed by a good pressure washing.  As we all know living in the south with high humidity levels, it is a constant struggle to stay on top of mold that loves to cling to the exterior of our homes.  Not to mention all that lovely, yellow pollen we have every spring.  Also, be sure to include the driveway, walkways and patios. Unless you have the time to spare, it may be best to hire a professional pressure washer who can knock this out in a day.
Exterior Painting 
Rest assured, if you have chipping paint or wood rot around your trim and siding, your prospective buyer will notice. Poor exterior maintenance will take a bite out of the seller's net proceeds at closing.  So be sure to look over your home carefully and address any of these issues before putting your home on the market.
Landscaping
A well-manicured lawn and yard can really draw in a potential buyer.  Freshen up garden beds with new pine straw or mulch. It's important to cut back over-grown shrubs that can make a home look dated. Also, consider cutting tree limbs away from the house and removing dead or dying shrubs from the landscape.
Adding Colorful, Potted Plants Near the Front Entry
It's so easy to make your front entry welcoming with colorful potted plants or a beautifully sculpted topiary.
#2. Let There Be Light
Nothing beckons a prospective home buyer more than a light and bright home.  There are several, easy ways a seller can maximize the amount of light or at least perceived light in their home.
Replace all Dead or Missing Light Bulbs
This includes all light fixtures and lamps throughout your entire home, especially those hard to reach can lights and dining room chandeliers. Use bulbs that are the highest wattage allowed for all your lamps and fixtures as well.  Before all showings, every light in the house should be on, so be sure to hit the sales and stock up on all your light bulbs!
Open all Blinds
During the day, you'll want every blind open or pulled up out of the way so that the windows are as exposed as possible and the warm, beautiful light can enter.  Additionally, it's a good idea to take down dark or heavy draperies and window treatments that block out natural sunlight. Draperies are very specific to one's personal tastes and although you feel they perfectly tie your living room together. It's unlikely that potential buyers will feel the same way.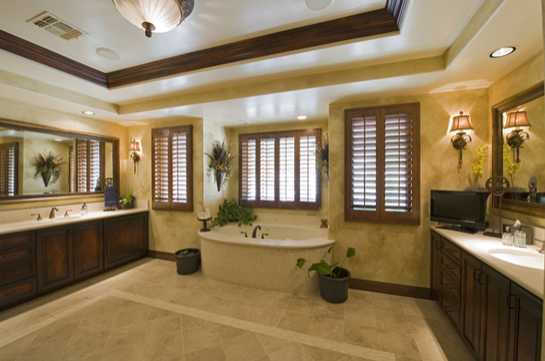 Clean Your Windows and Sky Lights
With all that incredible light coming in, every dirty spot on your windows will be noticeable. So, it's well worth it to have them cleaned before listing your home. Cleaning of sky lights are regularly ignored by sellers.  But, you can bet that buyer will notice the dirt and grime.  What could be considered as a stand-out feature now comes across as a daunting chore in the buyer's mind.
#3. Freshen and Update with Paint
We all know those super popular light shades of grey-blue or those colors somewhere between grey and beige, otherwise known as "greige".  Yes, it's everywhere and for a good reason. It's what buyers want. It's truly amazing how a fresh coat of paint can update a home.
Pick a Light, Neutral Shade
Remember, picking an interior paint color to help your home sell may be different than what you would choose for yourself.  If you are uncertain of what color to choose, CountryLiving.com has broken it down quite nicely about how much money you can expect to gain or lose on the sale of your home depending on the interior paint color. I've attached the link here:
https://www.countryliving.com/home-design/color/a43350/best-paint-colors-for-selling-house/ 
Use a Single Shade of Color Throughout
Buyers love to purchase homes with a fresh, clean palette throughout.  When it comes to decision time in a purchaser's mind, most often they will choose the home that requires as few alterations as possible to suit their tastes.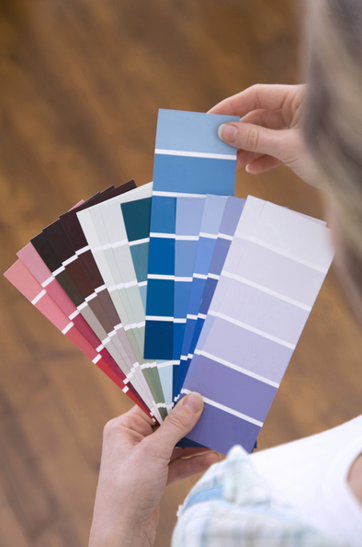 Paint the Interior Trim
If the trim in your house is scratched and chipped be sure to touch it up as well. Stick with white or off-white shades for the freshest look.
#4. Declutter, Depersonalize and Organize
   This is a super simple step that can make a huge impact. Not only will it help your home show better but will greatly improve the photographable of your home.  When it comes to selling your home, less is more. In fact, this may be a good time to rent a storage room temporarily.
Clean Out Your Closets
Closet space is incredibly important to today's buyers.  If there was ever a good excuse to tackle those over-stuffed closets, it's now!  It's time to get rid of those 10-year old running shoes and the skinny jeans that are two sizes too small that you've been aiming to get back into.  Start thinning out your closets by creating three bins; one for donating. One for consigning and one for trash. If you feel like you can't part with anything, separate your closet by season and store the off-season in your newly rented storage room.  Also, remember to organize and clean out your kitchen pantry as well.
Clean Out Your Garage
A garage or moving sale will do the trick!  Organize, sell, and move out all the clutter especially if you use your garage as a storage area. You want the buyers looking at your home to feel like storage isn't an issue.
Remove all Clutter and Appliances from Your Kitchen and Bathroom Counters
Kitchen counter space is another must-have on most buyers' checklists.  You might want to consider purchasing a handful of cute, rectangular baskets to store away your bills, homework or any other clutter that finds it's way to your kitchen counter.  You can put them away on a bookshelf or in a cabinet while your home is on the market. Additionally, be sure to store away make-up, blow dryers and all other clutter from your bathroom counter tops as well.
Pack Up and Store any Large Collections You Have
Go ahead box up and store your daughter's stuffed animal collection or your spouse's model trains from the 1940's.  You want those potential home buyers to see the spaciousness of your rooms.  Not be distracted by the items in your home.
Remove Personal Items and Photographs
Minimize your family photographs from walls, counters and shelves.  Those prospective buyers want to be able to visualize themselves living and being at home there.
#5. Minimize and Remove Furnishings if Needed:  
Your furniture doesn't have to look like it's just come from the showroom floor for your home to show its best.  Here are a few things to consider when readying your home for market.
Placing Furniture
Be sure that furniture never impedes your ability to flow freely from room to room.
Furniture Should be Appropriately Size
Remove any furniture that isn't necessary or too bulky for the space. Having a room feel a little sparse is better than it feeling too crowded.
Keep It Simple
Avoid having your rooms over-decorated.  Minimize items from your coffee and end tables. Lamps, a vase of flowers, and a centrally placed coffee table book is all you need.
I'm not going to lie, there's a lot of work involved in staging and preparing your home for market, but it doesn't have to be so overwhelming. Plan-ahead if possible and start with decluttering, first.  Then move to making necessary repairs, pressure-washing, painting, and landscaping.
But if you don't have that luxury of knowing months in advance you're selling, there is help!  There are local businesses that specialize in decluttering, organizing and packing. One such company is Simply Organized. The link to their website is here: http://simplyorganizedyou.com/.  They are professionals and can get the job done right and fast if you're in a pinch, so be sure to check them out.
Don't worry, in the end, it will be well worth the extra effort to get your home sold quickly and for the best price.
Checkout our other blogs by checking out our archive.